You've established an online course and are genuinely optimistic about its potential impact on people's lives. Now you need an effective, high converting sales page for your course so people can find and enroll in your program. However, there is a catch: you are a teacher or coach, not a salesman. 
While your strength may be in breaking ideas down to educate others, marketing your course and getting people to sign up requires a completely different set of skills. 
Do not fret… you can still create a sales page that will entice others to enroll in your course! 
To begin, determine who your idea client is. Who would most benefit from your course? What issues do they face that your course can help them resolve? 
The more information you have on your ideal client, the more you can tailor the sales page to their specific needs. 
What you'll need for your course's effective sales page is as follows: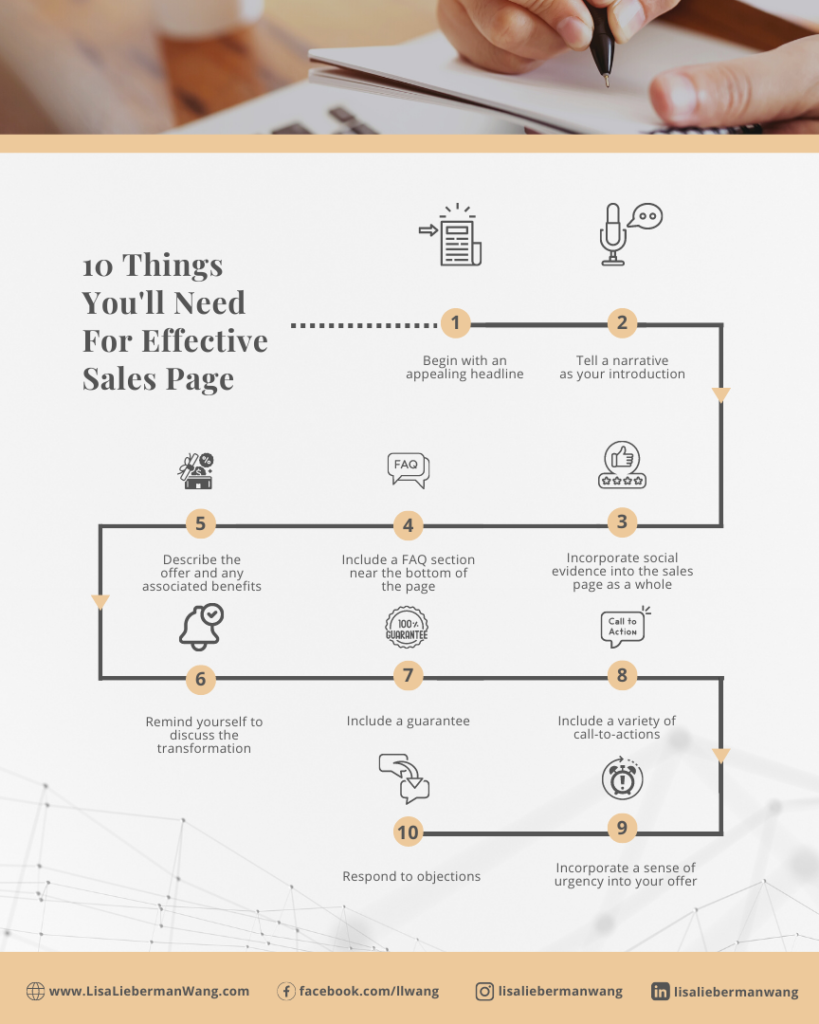 Begin with an appealing headline.
Start with the unique value proposition and identify the benefit that an individual will receive by enrolling in your course. Describe the transformation that they will experience in the future as a result of enrolling in the course. 
Tell a narrative as your introduction.
Emphasize any difficulties your ideal client may be experiencing. Utilize a narrative to demonstrate that you comprehend their predicament and possess the solution (your course).  
Incorporate social evidence into the sales page as a whole
.
Your previous clients are your best advocates! Utilize text and video testimonials to demonstrate to prospective ideal client that your courses have aided numerous people in the past. Social proof contributes to the development of the trust necessary to persuade individuals to purchase. 
Include a FAQ section near the bottom of the page
.
What are the most frequently asked questions? This is a chance to address frequently asked questions as well as specific keywords for which you wish to rank. 
Describe the offer and any associated benefits
.
Discussing the offer enables you to address the solutions your course provides for prospective students' concerns. Be specific about the various modules in your course in order to assist prospective students in visualizing what they would learn by enrolling in your course. 
Remind yourself to discuss the transformation
.
What kind of metamorphosis will occur? How will your ideal client' life be altered as a result of this experience? Consider the specific changes that will occur in your clients' life as a result of learning from you and implementing that information in their daily lives. 
Include a guarantee
.
If you give a money-back guarantee, this will instill confidence in your students when they purchase your course. Be sure to be clear in your disclaimers time frames and what they must do for the guarantee. 
Include a variety of call-to-actions.
Make it simple for future clients to get involved! The "enroll" or "purchase" button should be prominent and spread throughout the sales page. 
Include your call-to-action buttons in areas where the potential client may feel compelled to enroll, such as following your FAQ, following a testimonial, and towards the bottom of the page. 
Incorporate a sense of urgency into your offer.
When humans have a limited amount of time to act on an offer, they are motivated to act. Prospective clients will be motivated to act by a countdown timer and enrollment deadline. 
Alternatively, you might give "one-time-use" bonuses. 
Respond to objections.
On a sales call, you'd be able to converse with prospective students, listen to their arguments, and personally answer them! On a sales page, you must anticipate and address any objections. 
Consider why people may be hesitant to enroll and devise novel strategies to overcome their objections. For instance, if potential clients believe the pricing of your course is prohibitively high for a single purchase, you can address this concern by offering payment options. 
Conclusion
By implementing these strategies, you can speak directly to prospective students from a sales page. Displaying that you understand their difficulties and establishing trust can instill confidence in them to make a purchase. 
If you would like additional support on creating a sales page for your course, please reach out. We can help you map a plan for success. Schedule a call at with us now.