While extroverts may appear to run the world, there are plenty of introverts with significant power and influence behind the scenes. Introverts founded and led some of the world's most powerful companies.  
However, how can you manage the world while remaining loyal to your introverted nature? There is a method to prosper while remaining comfortable, at least for most of the time.  
Consider the following techniques as an introvert to survive and thrive in any climate: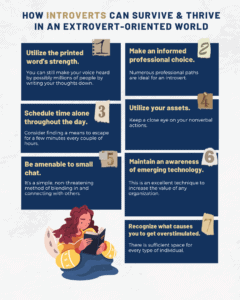 Utilize the printed word's strength. If you're uncomfortable speaking in front of a large group, you can still reach millions by writing. And you can do all of this from the comfort of your own home. 
Make an informed professional choice. You can be anything you want, but it will be easier if your vocation fits your character. Introverts have many career options. Examine a list online and choose one that fits your personality.
Schedule time alone throughout the day. Taking time away from others can help you replenish your batteries and improve your attitude. Consider finding a means to escape for a few minutes every couple of hours. You'll feel and perform better. 
Utilize your assets. This is sound advice for anyone, introvert or not. Consider your biggest assets and how you may leverage them in the world. This is an excellent formula for success
Keep a close eye on your nonverbal actions. Scientists say nonverbal communication is more critical. Consider attire, posture, and eye contact. Master nonverbal communication, and your reluctance to speak will fade.
Be amenable to small chat. Introverts avoid small talk because it's unimportant. The rest of the world talks quietly. It's a simple, non-threatening way to connect with others. Even if they don't want one, introverts need a friend.
Maintain an awareness of emerging technology. Keeping up with new technologies, apps, and social media is difficult because immersion takes time and effort. This increases a company's value. Most introverts enjoy learning, so this kills two birds with one stone.
Recognize what causes you to get overstimulated. What is it that exhausts you? Is it the crowd? Noise? Group speech? Talk to strangers. Decisions quickly? Individual introverts. Find a time when overwhelming situations are lessened.
 Conclusion
You are not required to be an extrovert to thrive in this world. There is sufficient space for every type of individual. You can be yourself and have a wonderful life and profession at the same time. To get the most out of your life, you'll need to make some wise choices, but that's true for everyone. Proudly display your introvert badge. You can thrive in your current state. 
Looking to take yourself and your business to the next level? Are you looking for additional assistance? Set up a strategy call now.